Double Time at Adrian
DHS Senior Ty Cornett Receives Scholarship to Play Both Hockey and Baseball at Adrian College
In 2008, DHS Senior Ty Cornett, three years old at the time, decided to pick up a hockey stick and a baseball bat. Soon enough, he had fallen in love with both sports. After years of dedication and challenges,  things got serious when Adrian College's head baseball coach Craig Rainey gave Cornett a call on Feb. 18, 2023, to discuss his future. Rainey had decided he wanted Ty to play baseball for the Bulldogs. 
This happened after Cornett's visit to Adrian for hockey where he ended up getting recruited for both the sports he loved.
Cornett was going to live his dream and this was a vital step: "If I hadn't taken it [scholarship] I would not have been able to live knowing I could have played both sports I've loved since I was little, I've been playing my whole life," Cornett said. Along with a $44,000 scholarship, as soon as Cornett knew he could play both of his favorite sports within his higher-level education, the decision was made– Cornett was going to attend Adrian College. Cornett viewed this opportunity as a symbol of his success.
"I was excited to get the offer and I felt like my hard work finally paid off, all of my effort and drive meant something. I want to make a difference in the leagues," Cornett said. 
Cornett is a well-renowned athlete at Dearborn High School. He played hockey and baseball varsity all four years, and he was captain on both teams for his last two years at DHS. Downriver Unified's hockey coach Rick Butler had nothing but good things to say about his athleticism and sportsmanship. He said Cornett's abilities to do whatever he needed in the moment made him a great leader. 
"He always got the team ready to go. He leads by example," Butler said. "I'm not surprised at all, he is a tremendous athlete. Adrian is lucky to have him." 
In addition to being named captain of both teams, Cornett won League Most Valuable Player as well as All-State and All Downriver for hockey. The award was given to the best hockey players in not only the league but in the state of Michigan.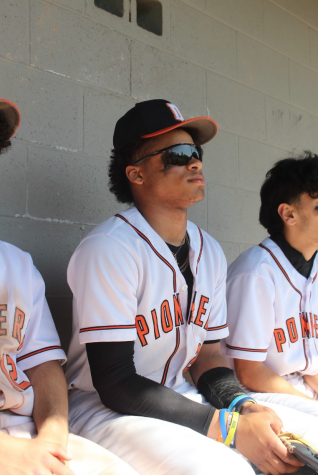 DHS head baseball coach Aaron Loconsole said that Ty has been a valuable asset.
"Ty is a good leader for us," Lonconsole said. "He holds his teammates accountable and tries to lead in a positive way. His best quality is his ability to inspire his teammates." 
One of Cornett's teammates on the DHS baseball team,  junior Kyle Pumer, said Cornett knows how to take control and taught everyone how to get the game going, keeping a positive attitude even if things got tense.
"He's comedic relief, but also when it comes down to it, he's always on point," Pumer said. "He knows how to get the team up [when] coming from a bad spot."
Cornett said his goal is to keep pushing and possibly make it to the NHL or MLB, no matter the path he takes, 
"I thought about how I could make my mark for the black community, to follow my footsteps to be the next up," Cornett said. "I'm the first black hockey player for Adrian, that's very special to me. There's not a lot of diversity so it's a start. I've always wanted to play college sports and this is my shot."