Swinging against the odds
The girls golf team this year is facing an indeterminate future, with only four girls on the team. Last year, they had nine girls and qualified for the state championships in Battle Creek for KLAA. The team is facing a decline in size, and at this rate, there is uncertainty as to what the future holds for girls golf at DHS as well as for different sports at and beyond Dearborn.
Head coach John Cialone explained that girls golf teams in MHSAA need to report four scores from their team to officially compete in a match. With that rule in place, most teams play every girl on their roster and then are able to take their four best scores to compete for a win. That's the game.
Cialone said that having four girls is a big struggle. 
"Most teams have five or six, oftentimes more, so they can pick their best four players to compete that day," Cialone said. 
Since there are only four girls on the entire team this year, Cialone said he has no options, and that it's harder to enter high enough scores to win against teams with multiple people to choose from with varying levels of experience.
"We can't [pick]. We only have four girls, and on many days, we have less than four which means we can't compete at all," Cialone said. 
The team actually has to forfeit an entire match if one girl isn't present. They automatically lose a match that they could have won, and they don't even get to play the game that they signed up and tried out to play for their school. This has caused a dramatic shift in the team's performance, coming off last year's season in which they soared through Regionals and qualified for States. 
Sophomore Carley Wehab is returning to the team this year for her second year playing golf. She said everyone on the team is very dedicated, and they've all been working hard at practice, but the lack of mobility in the roster alone just doesn't allow them to be their best. 
On Aug. 22, Dearborn forfeited the team's first match against Detroit Renaissance. On Sept. 16, they forfeited their match against Fordson, a team that they beat by almost 100  points last year. And on Sept.17, when they finally got their fourth member and were able to compete, they lost their first scored match against Livonia Stevenson, a team that they have had close matches against in the past, by almost 100  points. Last year, they were 4-2. This year, they currently hold 0-3. On Sept.24, the team forfeited against Livonia Franklin. Cialone said there isn't much that the team can do at this point to gain new members. "I ask everyday," Cialone said. , "I have the girls ask other people. I ask other people. It's just not something that's really popular around Dearborn High right now." 
The interest is just not there. The team is even coming off of a great season last year. The team finished third at Regionals and qualified for the state tournament, placing eighteenth in the entire state, all in the first division. DHS girls golf alum Elayna Bowser won Michigan Women's Amateur Golf Championship. The interest is not there.
Cialone said Bowser's previous experience at the Dearborn Country Club sets her apart from other golfers he has seen. He said there were girls with a similar amount of experience, but that they too are losing interest. 
"And what the solution is, I really don't know, other than that if kids don't start something when they're young, if they don't have that experience, are they really gonna go out for the high school golf team? Most won't," he said.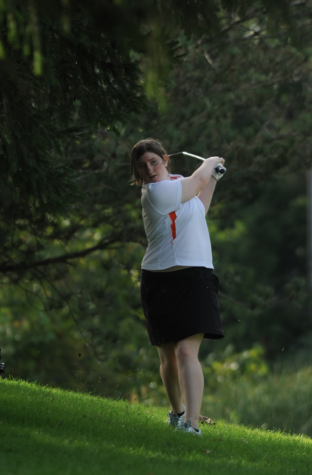 The National Golf Foundation reported that, "Golf participation in the U.S. peaked in 2005 at about 30 million golfers, according to the NGF, at a time when Tiger Woods was at the height of his popularity. That number dropped to about 24 million but has held steady at that level for the past five years," according to John Meyer of The Denver Post, earlier this year.
Fewer and fewer kids are growing up around golf. Rupert Neate of The Guardian said that the average age of golf players in the US was 44 as of 2016. 
"We also have one of our girls who would have been one of our top golfers this year who isn't playing because of her workload and her participation in other sports- soccer and swimming," he said. 
That girl was junior Stella Doverspike, who, like Bowser, grew up at the Country Club, playing golf. She started golfing at just five years old with her family at the Country Club and played competitively throughout her first two years here at DHS. Yet she is not playing on the team this year. She said with the combination of the loss of last year's seniors, the time commitment, and her progress in other sports, golf was the logical sport to drop in order to not be overcommitted. 
"I knew that the team was struggling, but I just couldn't commit to it this year. I felt really bad leaving the team, but my ultimate choice was to not come back. I hoped that the team would maybe get some more girls, and I tried to spread it around because it's a team that I would really like to see succeed, and the fact that we went to states last year should have brought new people, but unfortunately it didn't work," Doverspike said.
Wehab, returning to the team this year for her second season of golf, said she has noticed people losing their interest in golf and shifting their interests to other sports, such as volleyball and swimming. She also said she feels golf is overlooked because of its focus on patience as well as its difficulty and that it is more of a mental game than an active one.
"I don't really see that many new people joining this year," Wehab said. "I feel like people may think that it isn't as fun or active as other games. I just think people would just prefer something like basketball or soccer."
Cialone said that at the start of this season there were six members in total.  Two girls quit after making the volleyball team. He said he understands and respects the other sports, but it's causing this to be a particularly difficult season. 
"That's their choice to pick the sport that they wanna play; it's just unfortunate for girls golf," Cialone said. 
Some would argue that high school students don't have the time, and some kids are overcommitting by participating in many clubs, sports, social activities, and their jobs. . Golf is becoming more and more obsolete, and at this point, there's no telling what the future holds for golf at Dearborn High, or golf as a sport in general for that matter.
In comparison to prior years, participation is at an all time low, and at this point, there are fewer girls on the team than there are girls from DHS  on Dearborn Unified Figure Skating or DHS boys on Dearborn Unified Hockey.
The DHS gymnastics team faced a similar situation years ago, when the decline in numbers ultimately led to the dissolution of the team. The remaining girls then merged into Dearborn Unified Gymnastics, yet the number of girls even on that team has been at a sharp decline as well. At this point, there were only two remaining Pioneers on the team last year, and the rest of the small team is composed of girls from Edsel and Fordson.
Sophomore Malak Alataby was one of those girls, and she will be returning this year as well. She said that she actually enjoys the smaller team and working on a team with girls from other schools in the district.
"It's pretty fun, but all the pressure is on us during competitions, and when we compete, our points individually matter more than on bigger teams," Alataby said.
Girls golf appears to be heading in the same direction at this point in time. 
"A Unified team might not be a bad idea," Cialone said.
"
It's pretty fun, but all the pressure is on us during competitions, and when we compete, our points individually matter more than on bigger teams"
— Malak Alataby
This is not a Dearborn girls golf shortage. According to Cialone, there are multiple other teams in the division that are facing the same problem, and some schools that have it even worse, and that aren't even competing because they only have three players. 
"Edsel and Fordson have some numbers, but they don't compete either. They play by different rules, and when you do that, you're eliminated,"Cialone said. "But that's how Fordson plays, that's how Belleville plays, that's how John Glenn plays, so it's not just Dearborn that's suffering, it's other districts. Wayne Memorial doesn't even have a team," he said. 
"I really hope that more girls take up the sport in the future. It is so fun to do with your friends and a team, and I hope it becomes more known and gets the recognition it deserves," Doverspike said.