COVID-19 creates new challenges for DHS Athletes
Dearborn High School is known for having several successful athletic teams throughout the years. This year, the entire department has taken the pandemic head on. On March 13, 2020, when every school in the Dearborn Public Schools district was shut down, a decision had to be made on whether or not sports were going to continue to be played. Then by March 18, it was officially announced that all spring sports were officially cancelled for the 2020 season.
DHS Athletic Director Jeffery Conway has served in the position for 11 years. He said that every year he faces different challenges that force him to be flexible and able to adapt to unforeseen situations.
"One of the unique things about this job is that often times we have to deal with situations where things didn't go as planned (referee doesn't show up, lights aren't working, bus breaks down, etc.); so while none of those compares to the COVID pandemic in terms of scale, we are always ready to deal with adversity and sudden changes in athletics," Conway said. "Our planning, schedule-wise, is done usually about 6-9 months out, so when the COVID shutdown occurred in March, we already had our fall and most of our winter schedules in place for 2020-21." 
Some might argue, as a coach, one of the most gratifying feelings is to be able to watch players surpass expectations and experience various moments of success and greatness. 
Assistant coach for the varsity football team, Douglas Radcliffe, said he felt sympathy for all the seniors and kids that really wanted to play.
"It broke my heart to know that our seniors weren't going to get what they have worked for so long to get. I don't think it impacts our overall goals, but it definitely made our path towards our goals longer. However, having the shutdown happen has made the moments in the season a little sweeter. Everything is a little more noticeable now. It almost means more having lost it temporarily. It is a little strange to look up at almost empty stands but I don't think it has impacted our motivation or drive at all."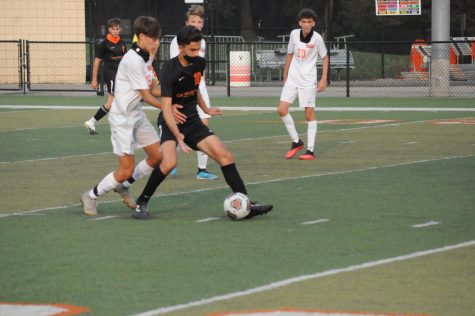 Due to the COVID-19 pandemic, the entire recruiting process looks drastically different this year. Athletes have  been forced to wait to tour colleges, or must participate in an online tour. College coaches do not have the ability to come and watch games, and the overall communication between schools and recruits is limited. Nothing is the same anymore.
Captain of the varsity soccer team, senior Hadi Jawad said his goal was to land a full ride scholarship after having college coaches come to watch him play.  
"It ruined a bunch of opportunities for kids. For me personally, trying to get these scholarships, nothing has been more difficult. We wanted to tour colleges right now and start applying, but at this moment it is very different, " Jawad said. 
From an emotional standpoint the pandemic has ruined much more than just college opportunities and having the inconvenience of wearing a mask while competing. Varsity volleyball player, senior Sariah Abdou, said her drive to compete isn't the same as it once was. 
"I have family members that aren't going to be around much longer and because of the virus," Abdou said. "They are stuck at home and can't come to my games and see my last year in high school sports, and it hurts."