Painting Her Path
DHS Senior Stella Rochon wins 2022 Senior Artist
DHS senior Stella Rochon was awarded the senior artist award on April 5, 2022. Her artwork is displayed at the Padzieski gallery in the Dearborn Ford Community & Performing Arts Center.
Every year, one senior artist who has shown exceptional talents in drawing and painting is awarded by DHS and put on display in the Civic Center for everyone to see.
Rochon said her interest in art is long and deep-rooted.
"In eighth grade, I was sitting at the kitchen table working on my art, and I was like this is the thing for me," Rochon said.
Rochon said that many DHS teachers assisted her in her path to success.
"Ms. Domino, Ms. Cassidy, and Ms. Kubitskey were a really big help because every time I finished an assignment in class, they always showed confidence in me and told me if anything needed improvement or if something was good, which really helped my art career," Rochon said.
Rochon said that her parents encouraged her to pursue an art career.
"[My mom] does art in her spare time and she was really happy that I was also going down that path and my dad is also very creative and he is along for the ride," Rochon said.
DHS photography teacher Niki Cassidy said that Rochon has shown great growth over the time she has taught her.
"When she was younger, because I taught her when she was younger, she was very quiet, reserved but funny, quietly funny," Cassidy said. "When we came back this school year she was very mature, very outgoing, and very helpful. Like she just grew up."
Cassidy said she hopes she had an impact on Rochon.
"I have encouraged her. I don't know if I influenced her," Cassidy said. "I hoped to just encourage her and just follow her vision for her life."
DHS art teacher Monica Kubitskey said that Rochon is hard working.
"Stella is to the grindstone. When she walks in she immediately brings out her sketchbook and talks about what you are saying," Kubitskey said. "She really thinks a lot. Not much of a talker. She thinks a lot, she sketches a lot, she researches, and then would start putting the plan into paper."
Kubitskey said that she thinks Rochon has a future career in art.
"I think she is going to go into illustration. I am an illustrator, she has a very good career development, in hers especially illustration on the computer. So her characters have already developed into a very friendly voice for most people," Kubitskey said.
Rochon's mom, Brooke Rochon, said that Rochon displayed artistic talent from a young age in unique ways.
"I was really excited, when she was little she would draw a lot, she would bring home homework that wasn't yet done but she would show me the back of it and show me what she drew, and I loved it, and I as well draw and paint, she just been by far a far better artist than I am, so I was happy to see her partake in it," Brooke said.
Brooke said that she will always have Rochon's back in her art endeavors. 
"I just support her, both of my kids are artistic and Stella just had this unbelievable talent, and I know she is going to take that and just do amazing things, so I'm just here to support her choices, she got a good hand on her shoulders," Brooke said.
About the Contributors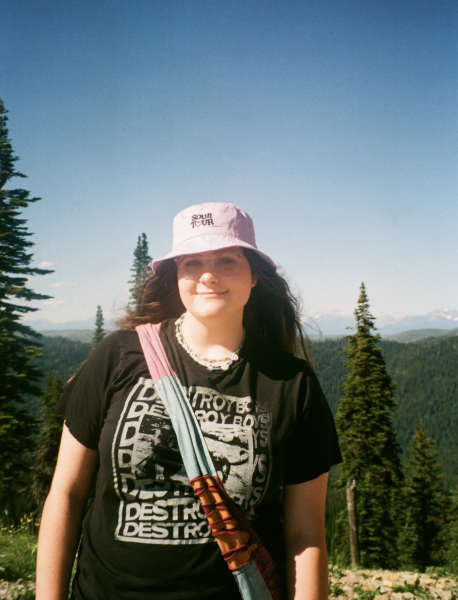 Alyssa O'sada, Editor-in-chief