Dearborn High School's principal connects with students in an upcoming collaboration
During the second semester of the 2022-23 school year, (DHS) junior Thomas Besek proposed the addition of a principal students advisory committee to DHS.
The PSAC's goal is to attain total student representation across DHS.An equal number of students from each grade level will be selected to attend and communicate regularly with Jebril about issues and controversies that require attention from DHS administration, such as a student fight or a flawed policy.
Besek said he took inspiration from the Superintendent Student Advisory Council (SSAC).
"The superintendent has his own student advisory council, so I thought that extending that to the specific high school level would be beneficial," Besek said.
DHS Principal Zeina Jebril received Besek's proposal and decided that having a Student Advisory Committee would be beneficial for DHS. Jebril said she thought the idea was great due to many other educators' inspiration from the SSAC, and in turn creating a Student Advisory Committee for their schools.
"Then it branched down to the Executive Directors doing their own advisory committee atthe middle school level, and there's another high school that does this," Jebril said. "So that's why I thought it would be a good idea when it was proposed to me."
The superintendent for Dearborn Public Schools, Dr. Glenn Maleyko has managed the SSAC. Maleyko said that during his initial hire as superintendent of Dearborn Public Schools, he wanted to expand the voice of students.
"[The SSAC] has had a tremendous impact. When I got hired as superintendent in 2015, I told Board [Of Education] that we need to increase student voice, and I wanted to bring in the council. Now, we're completing our eighth year," Maleyko said.
Maleyko said he was proud of the students associated with the SSAC that had achieved substantial results within the community and even state-wide.
"Our group has been really far-reaching. They do a lot of charitable work in the community. [I'm] very proud. We had our students Tiya Berry and Miryam El-Saghir present at the national school board conference. It's one of the biggest conferences in the nation for education, and they did a great job," Maleyko said.
About the Contributors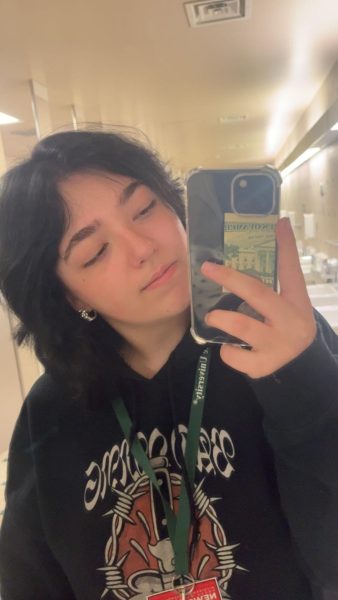 Mariam Baiz, Feature Editor
I get along with people pretty easily, and I love music that's about it.