Aris Williams Soars to America's Got Talent
Many people wish to be famous and have their dreams come true and America's Got Talent [AGT] is one way people can do that. On the show, there have been singers, artists, ventriloquists, dancers, magicians, etc. One of those dreamers happens to be Dearborn High School senior, Aris Williams who'll be auditioning in the Detroit Youth Choir. The Detroit Youth Choir aspires to transform the youth of Detroit into creative, curious, and compassionate young adults through the performing arts.  
Aris Williams will be flying out to Pasadena, California where they will be performing at the Pasadena Civic Auditorium on Oct. 25, 2022. The members of the Detroit Youth Choir had to go through a tier system where they had smaller auditions and evaluations before they go to the main stage and face the famous judges Simon Cowell, Howie Mandel, Heidi Klum, and Sofia Vergara.
Williams said the reason she's singing is because of her family's influence and beliefs. 
"My whole family was involved in singing. Like growing up they were in the church and they sang so, I kind of got surrounded with it and I grew liking it,"  Williams said.
Williams said that several people influenced her to sing, most being prominent female singers. 
"Definitely a lot of celebrities, a lot of pop stars. Beyonce, Rihanna, of course. And, my mom, she influenced me a lot," Williams said. "They really just helped me find the path and the light towards singing. They really kind of gave me that interest like, your voice going up and high and to have control over it, so I thought that it's really cool."
Williams said that the director of the Detroit Youth Choir has greatly influenced her and has helped her vocally. 
"He really kind of showcased and highlighted the potential of what it could bring and what it means as being an agency," Williams said. "He's always voicing how serious and impactful this is." 
Williams said that listening to music and singing makes her happy and blissful. 
"It really makes my day. I know that sounds a little cliche, but it does make my day. It does bring a smile on my face every time I listen to music," Williams said. "Singing makes me feel happy and confident." 
Williams said that she primarily sings R&B and pop music because it suits her voice better and prefers that type of music style. 
"I feel like I have this little soul. A lot of people tell me this. I have this little soulful, tune or vocal ability," Williams said.
DHS music teacher Jennifer Pegouske has had Williams in the DHS choir since her freshman year in DHS choir. Pegouske's favorite memories of Williams consist of singing high notes and going to the MSVMA State Choral Festival. 
Pegouske said Williams has been an exceptional student and has greatly improved her vocals.

 "Aris is an excellent and hard-working student," she said. "Aris has extended her vocal range, and music reading abilities and become more comfortable performing."
Pegouske said that she will support Williams' music career and aims to have motivated Williams positively.   
" I hope that I've influenced her by sharing my love of music and singing," said Pegouske. "If Aris chooses a music career, I think she'll work hard to be the best musician she can be!"  
Williams said that she plans on majoring in music for college and in the future, she wants a solo career.  
"I want to go out of state, so I plan to study music, in general. I also plan to do other stuff that's non-musical because you always want to have a backup plan, but generally, I want to do music in college," Williams said.  
About the Writer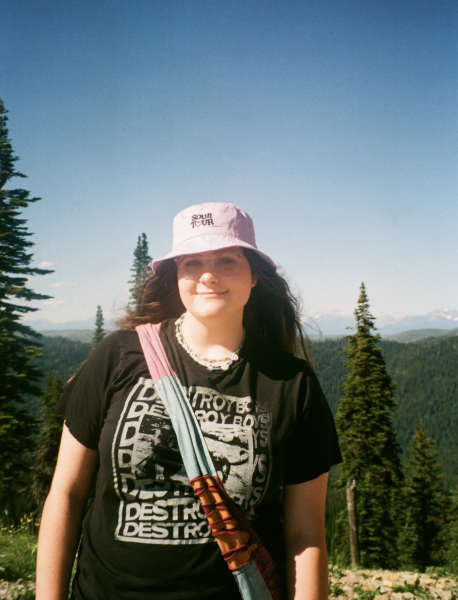 Alyssa O'sada, Editor-in-chief