Black Excellence
Black Student Union chapter begins in DHS with Junior Kalee Taylor
DHS Junior Kalee Taylor founded Dearborn High's first Black Student Union in December 2022 with the hope of creating a safe space for students no matter their race or color.
Photography teacher Niki Cassidy and language arts teacher Quaker McCoy plan to work together with Taylor to make everyone feel included and change the culture of racial discrimination in Dearborn High. In attempts to do this, Taylor said she aims to reduce racial slurs after discussing club motivations with Assistant Principal Kelly Dear. 
"When I first came up with this idea, I went to Mr. Dear and was telling him some reasons why I wanted to make this work," Taylor said. "Most of those reasons are because there are a lot more racial slurs coming out of kids' mouths around the school." 
Taylor said that another reason she was motivated to start BSU was because all her friends and family were always interested black history and one's background.
"So I've always been into black history, and ever since my step sister moved in with me, one thing about her and her family is that they are into black history. So she taught me a lot about it," Taylor said. "Everyone always says that knowing your history and where you came from is essential. The schools are trying to take learning about black history out of the books, so I said our school needs a safe space to learn about our history." 
Taylor said that she gained inspiration to start this club from a source she didn't expect.
"I was watching this show called Dear White People on Netflix, and they had these mini clubs where they all came together and talked about the problems with black history or black problems," Taylor said. "They really inspired me and I said I want to know more about my history and I thought the only way was to start a club."
DHS Language arts teacher Quaker McCoy said that her kids have this opportunity at their school and believed it would be great to have at DHS.
"My kids go to Ann Arbor Pioneer High School and they have always had a BSU, and I just thought it was necessary here, and I was kind of surprised that there wasn't already one here," McCoy said. "So I already had it in the back of my mind before Miss Cassidy even approached me." 
Cassidy said the club has grown greatly impressed by the growth of the club.
"When Ms. Taylor approached me regarding the club, I was impressed by her description of the need for a club like this. She had done the work of talking to students about their experiences and needs," Cassidy said. "Her rationale for starting this club, in my opinion, sought to address those needs. I was confident that she would succeed in leading the club due to her wanting to make the school a more welcoming place for all students and educate others on the value of their experiences and cultures." 
Taylor said she is impressed with the development and how far the club has gone from when they first started.
"There is more organization. I would say that we have a council and people who help run the code, like the social media runner and the vice president, the president," Taylor said. "Then we all like to do this thing where we watch a documentary, we like part of it, and then we come into a circle and share ideas. From when we first started to now, I feel like people are becoming more comfortable with saying their piece and saying what is on their mind."
Taylor said in the future she aims to make a difference through teachers, differences, and trips. 
"I feel like making big changes, like giving presentations and presenting to teachers, or fundraising and maybe giving out donations to black small businesses, or something like that, and then going on a tour of HBCUs, " Taylor said.
Dear said he believes that the future of BSU is bright and will be productive to DHS in many different aspects.
"Originally it was just known as the African American Student Association, now it is the black student union, because that ties in with some other clubs," Dear said. "I see it as being a strong active club, not only promoting and educating, but being involved in some of the various activities that go on around here– whether it's fundraising for a cause, or whether it's just getting their message visible to everybody."
About the Contributors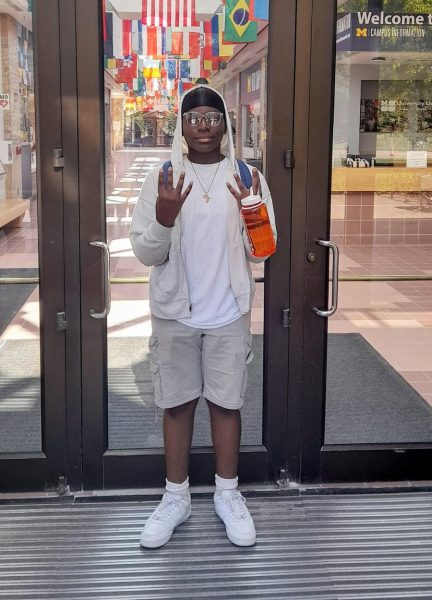 Wilson Inyang, Website Editor
"Don't take life too seriously. You would never get out alive."