BPA Slays
Dearborn High School BPA chapter attend National Leadership conference in Anaheim, California
Dearborn High School's Business Professionals of America chapter (BPA) attended the National Leadership Conference from April 26, 2023 to April 30, 2023 in Anaheim, California after placing at least second place within the BPA Regional Leadership Conference. The few select members competed in a series of events administering their business passions and career routes that include marketing, accounting, interviewing, etc. They participated in regional, state, and national levels where they presented individual/group presentations among a panel of judges. They had to place in the top five to advance to States, and then had to place in the top two to advance to Nationals.
This year's National Leadership Conference was represented by 14 DHS students, eight seniors and six juniors. The seniors include Adam Fakhoury, Fatimah Hamka, Mira Fayad, Haddel Antar, MIa Farias, Ahmad Ayoub, Dina Ali, and Sally Hammoud. The juniors include Rami Fakih, Ali Elghoul, Ryan Elhasan, Hani Habib, Jad Elhinnawi, Zain Mohamad. 
DHS Biology teacher and BPA advisor Sara Jaber said BPA is a great way for students to not only build business skills but help improve social skills and confidence among its members. 
"Students gained confidence, developed valuable skills, and built lasting friendships through the course of the year," Jaber said.
Jaber also said that the process of becoming a BPA advisor was easier with BPA president Adam Fakhoury by her side.
"This is my first year as an advisor to BPA," Jaber said. "It has been very enjoyable and more so because the chapter had an incredible president Adam Fakhoury who patiently showed me the ropes."
Fakhoury said that he's pleased with all of BPA's work within his two years of participation and looks forward to the work ethic carrying on into future years.
"BPA gives students a sense of belonging, gives staff a feeling of achievement, and our school a sense of pride," Fakhoury said. "I am so proud that we were able to facilitate BPA at our school this year, and I hope that it continues on for many years to come."
Fakhoury said that there is more to BPA than just a regular Dearborn High School club, such as going to fascinating places and meeting new people. 
"While BPA is a good resume builder, you also meet people from across the country, even from other countries like China or Puerto Rico, and you build everlasting bonds and connections with people you most likely would have never met if you hadn't done BPA," Fakhoury said.
BPA Vice President Fatimah Hamka said that BPA is beneficial because it offers many opportunities and events that students will ultimately learn from in the real world.
"Whether you enjoy computer based individual projects, medical majored routes, or speaking on the spot, BPA has an event for you," Hamka said. "Once you find what that event is and put in some time, you'll find the outcome to be an amazing reward of hard work," Hamka said.
Hamka said a simple BPA event helped improve her speaking skills and allowed her to have a passion for BPA within all her four years of participation. 
"It was the start of my BPA journey and really rooted my passion for speaking. I placed first in my individual prepared speech event as a freshman," Hamka said. "Since then, I've taken on challenges with new events including a couple of team events that have increased my speaking skills and presenting techniques." 
Hamka said that besides business benefits, BPA held a special place in her heart as it allowed her to connect with other members on a more personal level that isn't achievable anywhere else.
"Aside from the benefits BPA has on students that I have touched on, it improves bonds among students," Hamka said. "With BPA, we all grew closer together and connected with a bond stronger than most kids our age because an intellectual string tied us together. We worked professionally with each other but also we were able to share laughs and late nights of being young kids."
BPA national qualifier Rami Fakih said that Fakoury and Hamka's assistance has allowed the club and the connections within it to exceptionally flourish.
"Adam and Fatimah have been amazing to the club within the past year," Fakih said. "Not only have they helped within our specific events, but they've also allowed us to build connections and friendships that are truly worth millions."
About the Contributor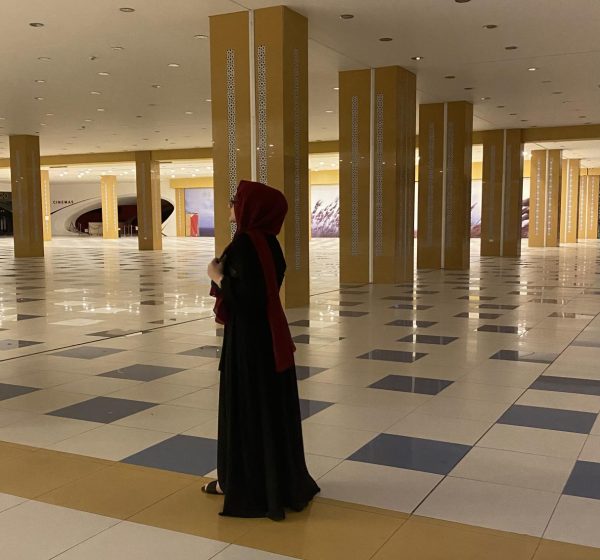 Angela Chehade, Opinion & Ad editor