Teacher of the Decade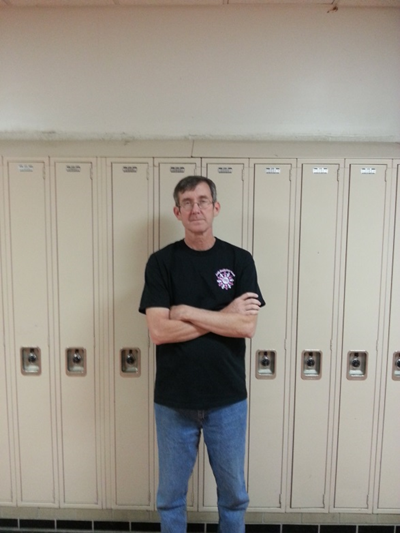 The role of a teacher in education today is an important one. Teachers inspire generations to grow as learners and guide them towards their future.  Thomas Brown is a chemistry, computer science, and AP Environmental Science at DHS and has been a teacher for over 20 years. He has shown a great deal of passion throughout his teaching career and has been recognized as Dearborn High School's Teacher of the Decade.
Brown said that having the opportunity to form relationships with students has been the most rewarding part of the job. "My favorite part of teaching is interacting with the students.They teach me way more than I teach them. And, I feel like they keep me young. Well, younger, maybe," Brown said.
As much as Brown loves to teach, he does face through some struggles that makes his profession challenging.
Brown said teachers are undervalued in the education system as well as politically. "The struggle right now is the political climate. Teachers don't seem to be valued as much as 20   or more years ago. Students and parents and administration can be challenging, but not much more than in years past. The system seems to be failing us right now," Brown said. 
 Although Sara Moughni, DHS sophomore, didn't have  Brown as a teacher, he has taught her a lot by just being her cross country coach. 
Moughni said Mr. Brown's positivity has made her look forward to cross country. "He is so welcoming, bright, and full of life. I remember that his energy was the reason I always came back to cross country conditioning as a freshman," Moughni said.
Moughni said hearing Brown's personal stories has opened her eyes to see the value in little things. "Throughout Mr.Brown's stories on his struggles and his own taste of a battle with cancer, Mr.Brown has enlightened me and helped me realize how valuable life and time is," Moughni said.  'With his energy, he instilled me with love and joy for the little things, just like he does."
Colleen O'Keefe, DHS chemistry and AP Chemistry teacher, who has worked alongside Brown for a while now has had a positive experience with him.
O'keefe said working with Brown showed his strength in balancing his work and priorities. "I have learned that some things you just have to let go," O'keefe said. "Although he is also serious about chemistry and teaching, he has also learned to balance things."
O'Keefe said Brown is passionate about what he teaches and how he teaches it. "He knows his content and he truly cares about students and what they are learning which is an important thing," O'Keefe said.