Freshman Nassim Mashhour plays varsity basketball for the 20-21 season
This past season, freshman Nassim Mashhour became only the fourth freshman on the varsity basketball team in the last 15 years. 
 Mashhour said he was grateful to have had the opportunity to display his talent.  "This year has been great and I would be egotistical to complain about anything. As a freshman, I was expecting and ready for anyone who was going to question my ability, yet nobody did. Teammates, friends, and even parents were very happy for me and encouraged me everyday," Mashour said. "Furthermore, with covid I have been very lucky and it hasn't really affected me at all (except for the mask wearing). Overall, I am very relieved to say that although it may have been difficult for others, it has been a very blessed year for me."
Mashhour also said that he owes a lot of his success to his father, Ibrahim Mashour."My dad has taught me and helped me a lot throughout all of my basketball career. He was always preaching to me about how the game is supposed to be played and what I needed to do if I wanted to make it to the next level," Mashour said.  "This year though, he was the best as not only did I learn so much from him, but I also was much more comfortable with him around as I knew we had a similar understanding of the game. This helped me in a variety of ways because I was able to have the confidence to do whatever I needed to do to win."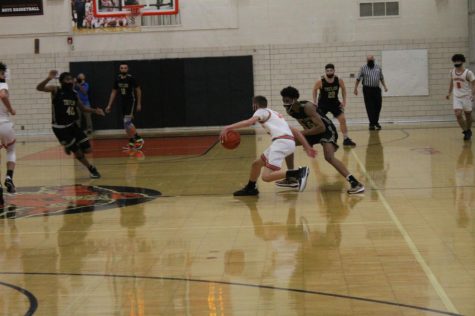 Abe Mashour coached college basketball for 25 years. He spent 15 years at Henry Ford Community College. From 1999-2014 and finished his career there with an overall record of 246-156. He coached the 2008 and 2009 Hawks to the NJCAA and the MCCAA championships, respectively. He coached at Schoolcraft College from 2014-2018. "I think what makes him special is that he is very very coachable. He listens, he adapts, and he makes the changes he needs to make as a basketball player. His IQ is terrific," Abe said. "He really understands how to play the game and that helps him out more so than anything that will makeup for some of his deficiencies. And that he is a very good shooter. His perimeter shooting is exceptional for a kid his age and he'll continue to grow in that department." 
Gym teacher Kevin Barkoff has served as the head coach of the varsity squad at DHS for 14 years. "Early on I knew that Nassim's basketball IQ [knowledge of the game] was advanced for somebody his age. His willingness to work hard was evident early on as well. Once given the chance at the varsity level, he was much better than I would have expected. He led the team in 3 point percentage, total 3 pointers made and stepped up in many tough games to help us win,"Barkoff said.
Barkoff said it was important to develop a connection with Mashour at the start of the season. "Like I try to have with all of my players, I try to build a strong player-coach relationship. I trust him and he trusts me. Yes, I do think it affects the way he plays and, hopefully, brings out the best in him."
Mashour's teammate, senior Ahmed Makled said Mashour had a positive impact on the team's performance this past season."I think with the way Nassim has been playing, everyone has been motivated to play better. I am happy for him to be a varsity basketball player as a freshman and I can't wait to see what he'll bring to the table as he grows older," Makled said.
Junior Mohamed Najm said that he respected Mashour's efforts to encourage and cheer on his fellow teammates. "Nassim always brought energy for the team no matter the situation. When we were doing good  he was loud on the bench and clapping for his teammates against the opponents. Also he was always positive and motivated all of us in the toughest times," Najm said. "It is easy to support your teammates when they're doing good, but the thing is will someone support they're teammates through the tough times, and he always accomplished that. The thing is that he always meant it too. It wasn't just fake energy. He wanted the best for his teammates so he made sure to support them with passion and emotion." 
The Pioneers finished the season with a record of 16-7 and 10-5 in division games. The team finished fourth in the division. The team was knocked out of the state playoffs by Divine Child March 27. With a score of 56-63.