Halal Chicken Heats Up In Dearborn
Dave's Hot Chicken surges in popularity after opening new location.
Dave's Hot Chicken opened its doors to Michigan here in Dearborn on Oct. 29, 2021. The restaurant serves 100% halal (permitted by Islamic law) Nashville-style chicken, and with Dearborn having a rising Muslim population, it's become the newest food craze in town.
Due to it being the only Michigan location so far and the news of the opening only seeming to spread further, the restaurant keeps busy with hour-long waits in line, sometimes even wrapping around the block! But this isn't only the case in Dearborn; Dave's has been making food headlines and receiving admiration nationwide.
Dave's Hot Chicken CEO and Co-Founder of Wetzel's Pretzels Bill Phelps has worked alongside founders Tommy and Gary Rubenyan, Dave Kopushyan, and Arman Oganesyan for the past three years and he's no stranger to the marketing and restaurant industry. Phelps said he seconded the decision to open the first Michigan location in Dearborn by reason of its large Muslim population.
"Our franchisee picked the location and he did an amazing job," Phelps said. "We also have a strong following among the Muslim community because our chicken is halal. One of the founders is a chef trained at Thomas Keller's Bouchon restaurant, he always said halal chicken just tasted better."
Phelps said Dave's Hot Chicken's skyrocket in popularity, despite their lack of advertisements, comes from a combination of word of mouth and large social media presence.
"Dave's is a cult brand with an amazing following," Phelps said. "We have a following on numerous social media platforms that give us an awareness that is incredible, given our size!"
Phelps also said that their base is unlikely to fizzle out anytime soon.
"One of the founders, Arman Oganesyan, is a marketing genius, and he's also hysterical," Phelps said. "He should be able to keep the brand edgy, cool, and really fun for a long time."
Dave's Hot Chicken has been gaining help from social media influencers and celebrities across the globe who promote and support their journey, and Abe Obeid, also known as Halal Food Junkie, is one of them. Obeid is a popular food blogger that is Dearborn-based, and on Oct. 27, 2021, he created a post about Dave's on his Instagram which really brought the brand to the community's attention and contributed to the hype surrounding the opening.
"Biggest post of all time for me," Obeid said. "The most viewers ever on my page through the Dave's Hot Chicken post in [Halal Food Junkie].[sic]"
Some of our fellow Pioneers work at Dave's as well. DHS junior and former Dave's Hot Chicken staff member, Brendan Cosgro, worked at the restaurant from Oct. 23 to Nov. 20. Cosgro said that he and the rest of the staff tried their best to keep up with the overwhelming number of customers.
"Don't get me wrong, it can be stressful and it's a lot. But the many folks that work there daily know what to do and are trained to handle large groups of customers, even the folks who wait outside wrapping around the building," said Cosgro.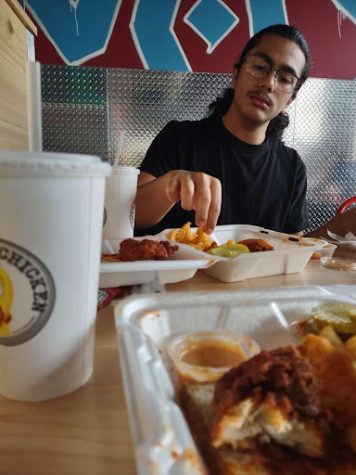 Cosgro also said he chose to work at Dave's not only for the quality they offer to their customers but to their staff as well.
"Even if you aren't a customer and aren't excited, what they offer is quite incentivizing; $16 an hour with a maximum of most likely three shifts per week," said Cosgro.
From parking lot pop-up to Drake's investment in just four years, Dave's Hot Chicken is undoubtedly a great addition to the Dearborn community. The franchise is currently contracted to open 15 new locations in Michigan within the near future, and 25 other new locations by the end of 2021. They also plan to expand internationally in the near future.