Community in Crisis
The mark that COVID-19 has made continues to grow as Dearborn community members face struggles they would have never expected to experience. Hospitals, grocery stores, and restaurants have been working endlessly to ensure the health and safety of Dearborn residents. 
Beaumont Hospital in Dearborn is made up of doctors who have been on the frontlines of this pandemic and risking their health to care for the Dearborn community. One of the biggest struggles doctors have had to face was figuring out what exactly is this virus they are dealing with.
Dr. Ali M. Rida, a third year family medicine resident at Beaumont, said the first wave that occured in March and April was a difficult time for the hospital. "We were at full capacity almost always, constantly figuring out where to transfer patients who needed an immediate higher level of care, and trying to treat a viral infection that seemed capable of causing almost everything, from blood clots in the lungs, to heart attacks, kidney failure, and even strokes," Dr. Rida said. "All of this was compounded by the fact that so many hospitals had PPE shortages. This time around, in the fall, hospitals are better equipped in terms of PPE as well as treatment options for COVID-19, but numbers are once again unfortunately reaching full capacity."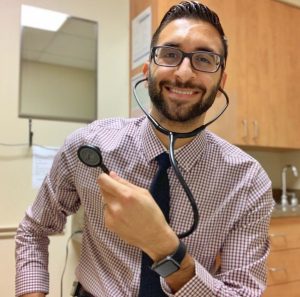 Dr. Rida said the hospital ensures the care of COVID-19 patients through a challenging hands-off and virtual approach. "We limited our physical exams as much as possible to avoid direct contact and exposure with infected patients," Dr. Rida said. "The shift to 'telemedicine' and 'virtual' phone and video visits with patients has quickly lost its allure, and most people just want to get back to the way things were."
Dr. Rida said the hospital has implemented strict rules and procedures to detect employees who are infected with COVID and reduce the spread through PPE. "There are strict screenings that all healthcare workers must complete daily before entering their work facilities in order to catch potential ill employees. There are also strict rules in place prohibiting hospital visitors and guests as much as possible," Dr. Rida said. "Masks have now essentially become universally required. These steps do not necessarily make matters harder to operate, but while some may argue masks are quite cumbersome to wear, we all can hopefully agree they are necessary."
One of the more essential businesses to remain open from the start and throughout the entire pandemic period has been grocery stores. Dearborn Fresh Supermarket manager, Moin Dawoud, has had to ensure major precautions and safety protocols as Dearborn residents have flooded the supermarket in recent months.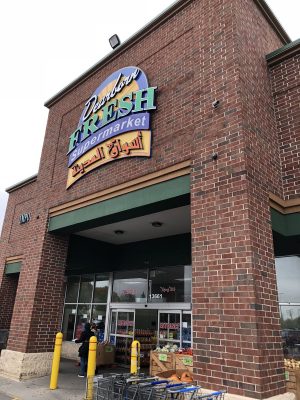 Dawoud said he has implemented various measures and protective equipment throughout the market to limit the spread. "We placed barriers between employees and customers on each register around the store, we also placed social distancing signs outside and inside encouraging customers and employees to stay 6 feet apart," Dawoud said. "We also included directional arrows on each aisle on the floor and required masks in order to enter the store and provided those without masks. It is mandatory for employees to wear masks, gloves, and disinfect carts and registers."
Dawoud said he has lost countless employees who were in fear of the virus. "A lot of employees did quit because they were afraid of the damage the virus could do to them, it was difficult to find replacements which caused many of our amazing employees that stayed to work overtime to cover for those who left," Dawoud said.
Restaurants in the community have also been encountering numerous issues when it comes to business. Leo's Coney Island Manager, John Patouhas, said the pandemic and current lockdown has generally decreased the amount of customers that come in. "We are down 45% and the lockdown doesn't make sense to a lot of people in the restaurant industry. We understand why they have to do it and if we follow up with the health department, they tell you that you could get it through your ears and nose. So like why do we have to wear masks?," Patouhas said.
Patouhas said he was fortunate enough to not lose employees through lockdown. "I didn't really have a problem with my staff from the beginning when we all closed, but when we opened again, or when we started doing carry outs again, 95% of my staff came back so I was very lucky to get all of my staff to come back," Patouhas said. "The most difficult part of this shift is giving my staff less hours. Especially now with the holidays coming up, they have to buy gifts and necessities for their homes and food."
Patouhas said the pandemic has created a number of challenges from a restaurant management standpoint.  "Some of the biggest struggles are protecting my staff, protecting my customers when coming in, less businesses, and keeping everything very clean and sanitized at all times," Patouhas said.
Dr. Rida said he hopes for a shift back to normal life in the near future. "We need to embrace masks as a means of helping us return to the lives we once had. A collective, shared mentality is what's necessary to defeat this virus," Dr. Rida said. "With hopes of potentially successful vaccines on the horizon, hopefully this vision is not too far off."